Pumpkin Party Camper Reunion Event
Pumpkin Party: Ages 12-19

Camper Reunion Event

October 25-27, 2024 | Pioneer Ranch

Come celebrate fall with us at camp! If you came to Pioneer Ranch as a camper this summer, we would love to have you (and a friend) join us for our fall camp reunion, Pumpkin Party. And a party it will be!
What better way to spend a fall weekend than at camp?!! Pumpkin carving, axe-throwing, wide-games, campfires, hayrides, and a whole lot more!
Fall adventures at the Ranch bring a whole new level of fun to being at camp!
Fun activities, great Bible studies and discussions by the fire will fill the weekend!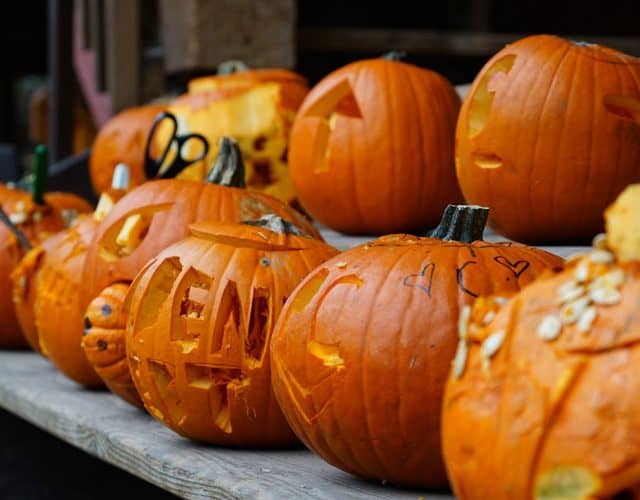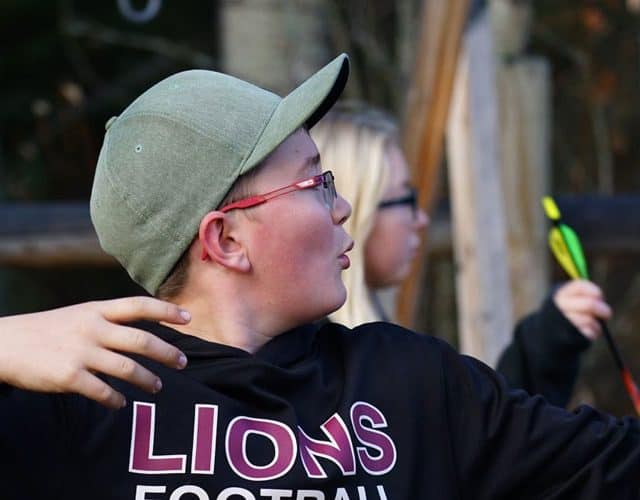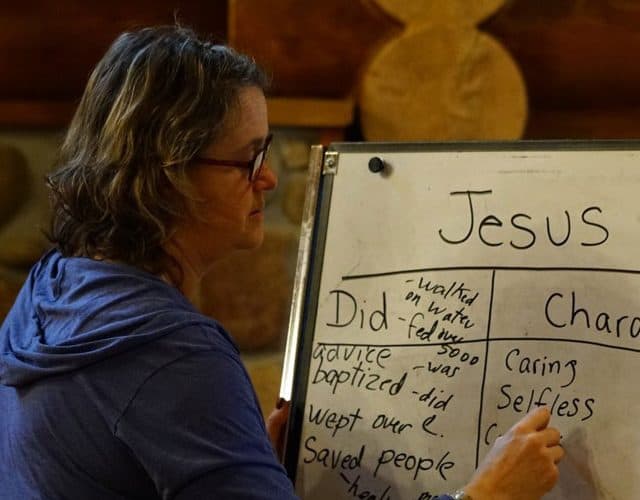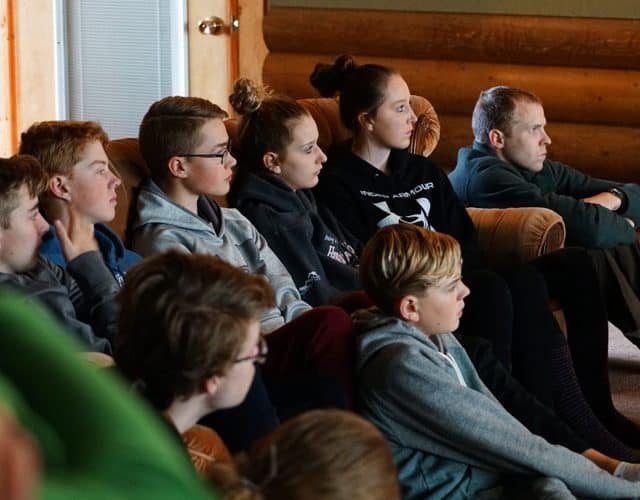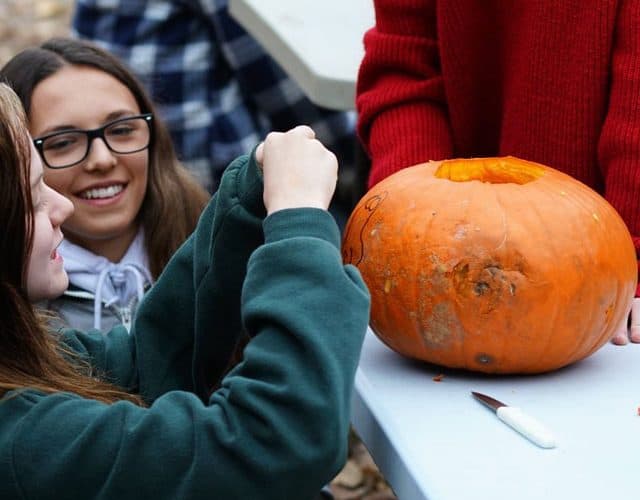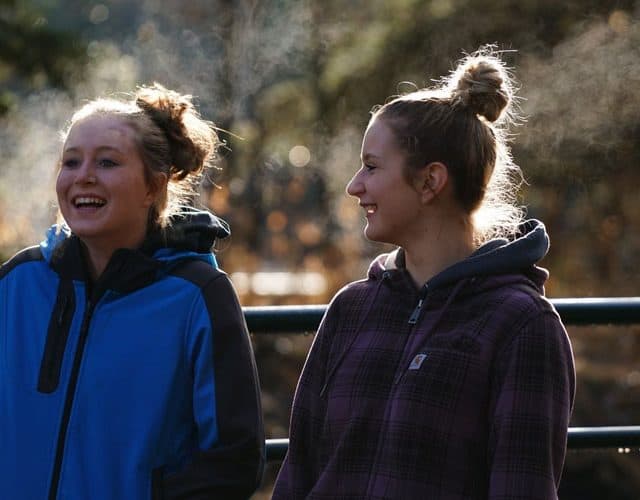 ADDITIONAL INFORMATION
Come experience the incredible beauty of camp in the fall and continue the adventure! We invite you to join us in discovering who God is through times of teaching, discussion, Bible study and prayer. Whether this is your first time at the Ranch, or you've been a Ranch camper for several years, this will be an amazing weekend of activities, hanging out with friends and good conversation.
Registration: Registration must be done in advance and will be taken on a first-come-first-serve basis, up to a maximum of 40 campers.
Dates: Friday, October 25 to Sunday, October 27
Who/Ages: Campers & Friends of Campers, Ages 12-19
Arrival Time: Friday, 7:00 pm
Departure Time: Sunday, 2:00 pm
Transportation: Parent Drop-off/Pick-up Only
First Meal: Saturday, breakfast
Last Meal: Sunday, lunch
Early Bird: Register by September 30th and save 20% off! ($212/person + GST) Use Discount Code: EARLYPUMPKIN24.
Regular Rate: Starting October 1st: $265/person (+GST)
Deposit: $50 non-refundable deposit
Bring A Friend Discount: 15% off camp fees for you and a friend IF your friend is a first-time camper at Pioneer Alberta. (Discount will be applied by Pioneer Camp Office once both campers have registered.)
Registration Closes: Wednesday, October 16th, 2024
*Schedule provided is a sample only. Schedules are weather dependent and may be adjusted due to changing weather conditions or due to other camp needs as they arise.
Friday
7:00 pm Camper Arrival
8:30 pm Wide Game
9:30 pm Snack
9:45 pm Campfire
10:30 pm Lights Out
Saturday
8:30 am Breakfast & Dishes
9:30 am Bible Study
10:30 am Activities
12:30 pm Lunch & Dishes
2:30 pm Activities
4:00 pm Snack
6:00 pm Supper & Dishes
7:30 pm Wide Game
9:00 pm Snack
9:15 pm Campfire
10:30 pm Lights Out
Sunday
9:00 am Breakfast & Dishes
10:00 am Bible Study
11:00 am Whole Camp Activity
12:30 pm Lunch & Camp Clean-up
Pumpkin Party Wrap-Up
2:00 pm Departure
If the camp is required to reduce enrolment in registration for any reason:

Priority registrations will be given by date of registration; those who have registered first will retain their spot at Pumpkin Party.
Once we have reached our weekly capacity for participants/staff onsite, a waitlist will be set up and the applicant will be placed on it. If there are sessions that are not full and that the participant is eligible to attend, your registration can be moved to one of those sessions.

In the event that a camp event is cancelled for any reason, the camp will issue a refund for the value of the fees of the unexpired term.
If parent/guardian/participant chooses to withdraw their event registration, regular cancellation policies will be in effect.
Event Cancellation Policy
If you choose to cancel more than two weeks prior to the start of the event, you will receive the below refunds:
Cancellations will receive a full refund less the $50/person non-refundable deposit processed at the time of registration.
If a cancellation occurs less than two weeks before the start of the event, there will be NO REFUND except for medical reasons confirmed by a note from a doctor. In that case, you will receive a full refund less the $50/person/retreat non-refundable deposit processed at the time of registration.
No refund will be made for dismissals due to disciplinary action, late arrivals, or early departures.
If a participant is unwell while at camp, and it is determined that withdrawal from the event is required, the camp will credit the participant the value of fees for the unexpired term. Depending on availability, the participant can use their credit to rebook the participant in an alternate current session when they are back to full health.
If this is not possible, the camp will issue a refund for the value of the unexpired term or credit the participant for a future event or camp session.
A Reminder About Our No Cell Phone Policy for Camper Events: We will be continuing our no cell phone policy for this event, so please ensure that your son/daughter does not bring their phone to camp. If they do, we will safely lock it up in our office and return it to them at the time of check-out.
InterVarsity's Pioneer Camp Alberta cannot guarantee to be a nut/peanut free environment. We do seek to reduce the risk of exposure and therefore do not use or serve peanuts, peanut products or tree nuts on camp property. Nuts or products containing nuts will not be available in our Tuck Shop(s). However, the food we purchase may contain traces of nut products. Please do not bring any food items with you to camp that contain nut products (this includes chocolate bars, granola bars, etc.). Any items containing nut products will be removed from the camp.