Camp @ Home is an initiative for our camp community by our camp community. We want to champion families with endless, kid-friendly activities and resources, so you can bring the camp experience right into your home.
Last modified: December 9, 2020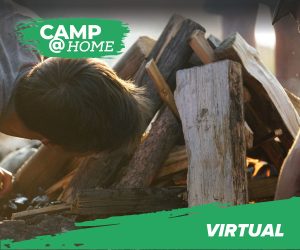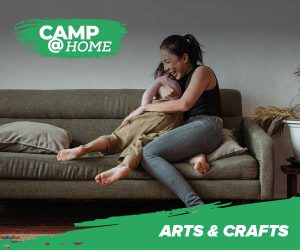 CREATE A TIME CAPSULE
Time capsules are an incredible way to stow away a favourite memory. Remember your birthday, your first day of school - or any day - by assembling your favourite photos and trinkets into a jar. Pick a place to hide it where you won't be tempted to look, and let your future self get flooded with nostalgic memories!
Create a Capsule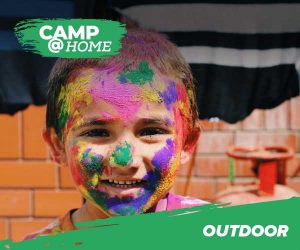 SQUIRT GUN PAINTING
Beat the summer boredom by calling upon your inner Jackson Pollock! Create an incredible work of art through one very unique tool - a squirt gun! Set up a space outside (this can be messy), fill your squirt gun with some paint and spray away. Your kids will be amazed with what they can create!
Paint Your Masterpiece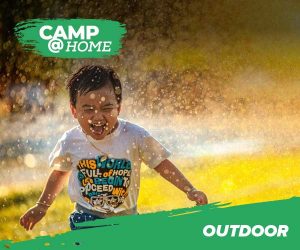 "MORNING DIP" CHALLENGE
Wake up! It's time to run outside and go for a morning dip! We're challenging kids to recreate the fond camp memory of "jumping in the lake" first thing in the morning or after a hot and sunny day in the comforts of their home. Cock-a-doodle-doo, morning dipperoonies. Who's up for the challenge?
Join the Challenge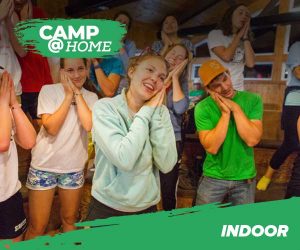 CHARADES PROMPTS: CAMP EDITION
Calling all camping and charades lovers alike! This is the perfect set of prompts for your next family game night. Spend some quality time reenacting these camp themes, like "scaring off a bear" or "reeling in a big fish", which are sure to stir up a good laugh. Sunscreen and bug spray not required!
Download the PDF!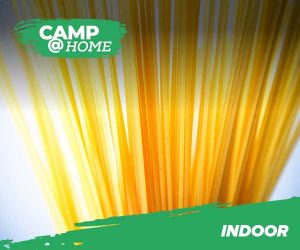 SPAGHETTI STRUCTURE CHALLENGE
How strong is a strand of spaghetti? How strong are 100 strands of spaghetti? This activity will get your kids experimenting with building structures and understanding concepts of force and weight distribution. See how many strands it takes to hold up the biggest book in your home!
Get Stacking!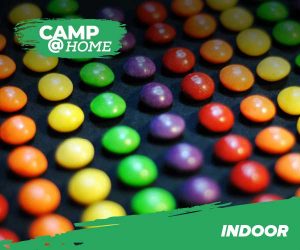 WACKY SCIENCE: RAINBOW SKITTLES EXPERIMENT
A beautiful colourful display meets a wacky science experiment! Fun for all ages (adults included), this experiment combines water with your leftover Skittles candy to create a surreal rainbow swirl. With endless pattern variations, this simple activity is the quickest way to captivate your kids.
See the Rainbow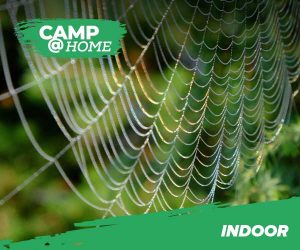 STICKY SPIDER WEB GAME
Practice your aim with this sticky spider web activity! Perfect for indoor play, this game can be set up in any doorway or narrow hallway. Your kids will have a blast throwing newspaper "flies" at a web of sticky strands made out of painter's tape. See if they can catch any!
Catch Some Flies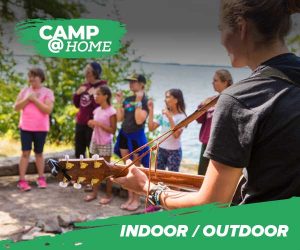 THE VOICE: CAMP EDITION CHALLENGE
Just because we are all stuck at home doesn't mean that we can't sing & cheer together! We're inviting all of our campers to join "The Voice: Camp Edition". Simply film a performance of your favourite camp song or cheer and wow us with your creative renditions. Don't forget to share your videos with us!
Join the Challenge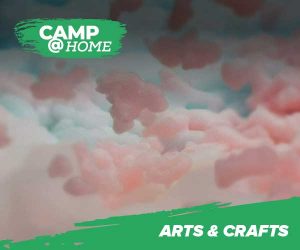 WACKY SCIENCE: ELEPHANT TOOTHPASTE
Bring out your inner chemist and recreate this super-sized, wacky science experiment! Water, oxygen gas and soap create an expansive foam that looks just like a giant squeeze of toothpaste. For older kids, take the opportunity to review the chemical reaction and the science behind the scenes.
Try at Home