Pioneer Women's Weekend

May 31-June 2, 2024 | Pioneer Lodge

Come join us at Pioneer for a weekend to savour friends, step away from the day to day and be encouraged in the beauty of the foothills.
There are greater things yet to come, greater things yet to be. Spend the weekend being reminded that God is your:
• light in this darkness
• hope to the hopeless
• peace to the restless
There is no one like our God. Come and be encouraged.
Theme: TBA

Registration Opens: March 1, 2024
Weekend includes: A space to relax, play, visit, sing, and listen; a space to be in the great outdoors on foot or on the back of a horse; a space to laugh together, to contemplate, to enjoy mountain views or to sit in front of the fire and enjoy a great cup of coffee or tea. There will be door prizes and great food! Our amazing speaker, and our worship team will guide our weekend together as we contemplate what it means to thrive, even in tough surroundings. There is a space for you. We look forward to seeing you here.
Additional Information
Registration: Registration must be done in advance and will be taken on a first-come-first-serve basis, up to a maximum of 40 guests.
Date: May 31-June 2, 2024
Time: 7:00 pm Friday – 1:00 pm Sunday
Cost: $275 (+GST)
Registration Opens: March 1st, 2024 @ 1:00 pm
Registration Closes: May 22nd, 2024
Get Directions Here
Pioneer Women's Weekend Cancellation Policy
If the camp is required to reduce enrolment in registration for any reason:

Once we have reached our weekly capacity for participants/staff onsite, a waitlist will be set up and the applicant will be placed on it. If there are sessions that are not full and that the participant is eligible to attend, your registration can be moved to one of those sessions.

In the event that a camp event is cancelled for any reason, the camp will issue a refund for the value of the fees of the unexpired term.
If parent/guardian/participant chooses to withdraw their event registration, regular cancellation policies will be in effect.

If you choose to cancel more than two weeks prior to the start of the event, you will receive the below refunds:
Cancellations will receive a full refund less a cancellation administration fee of $50/person/retreat/event.

If a cancellation occurs less than two weeks before the start of an event, there will be NO REFUND except for medical reasons confirmed with a note from a doctor. In that case, you will get a full refund less the cancellation administration fee of $50/person/retreat/event.
No refund will be made for dismissals due to disciplinary action, late arrivals, or early departures.
If a participant is unwell while at camp, and it is determined that withdrawal from the event is required, the camp will credit the participant the value of fees for the unexpired term. Depending on availability, the participant can use their credit to rebook the participant in an alternate current session when they are back to full health. If this is not possible, the camp will issue a refund for the value of the unexpired term or credit the participant for a future event or camp session.
InterVarsity's Pioneer Camp Alberta cannot guarantee to be a nut/peanut free environment. We do seek to reduce the risk of exposure and therefore do not use or serve peanuts, peanut products or tree nuts on camp property. Nuts or products containing nuts will not be available in our Tuck Shop(s). However, the food we purchase may contain traces of nut products. Please do not bring any food items with you to camp that contain nut products (this includes chocolate bars, granola bars, etc.). Any items containing nut products will be removed from the camp.
Schedule Come away for a restful and refreshing time with us.
Friday evening:

Welcome & Get To Know You
Worship & Teaching
Campfire

Saturday:

Worship & Teaching
Free afternoon of activities including: trail rides, hiking, canoeing, archery, crafts and unlimited coffee!
Evening campfire with fun, worship, and teaching

Sunday:

Worship & Teaching
Delicious Brunch!

Activities include: horseback riding, walking/hiking, canoeing, archery, crafts, mountain views, and lots of free time to relax in front of the fire and enjoy our café.
Speaker's Bio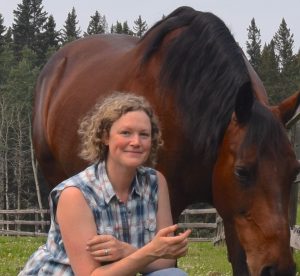 Meet our Speaker: Rev. Clara King
Pioneer Lodge holds a special place in Clara's life, for it's here that she came to Christ as a teenager while volunteering as a wrangler many years ago. It's through this lifelong connection with horses (and outstanding Christian horse people) that Clara has learned to set healthy boundaries, find her power, and use it wisely and honourably in the service of God. Her calling is to share this journey with others, empowering faithful disciples and building up leaders (lay and ordained) throughout the Body of Christ. An ordained Anglican priest with 10 years of experience in parish ministry, Clara is now doing a theology PhD in leadership and system change in the Church at Fuller Theological Seminary in California.

With her husband Michel, she has two adult stepdaughters, two characterful horses (who often feature in her work), and a delightful Border Terrier named Jonah. They live in Calgary. You can find her online at
ClaraKing.com
Worship Leader's Bio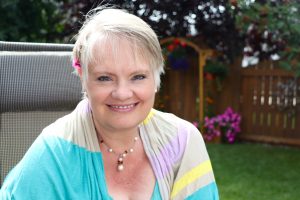 Meet our Worship Leader: Normay Weibe
Normay Wiebe has served as Worship Coordinator at Bethel Lutheran Church in Sherwood Park for the past 25 years. She has also been deeply involved with Break Forth Ministries, travelling with Morning Star, Arlen Salte & Rivers Edge, organizing worship retreats, and presenting at Break Forth Conferences.
She is looking forward to worshipping and growing together, and joining in praising our God in response to the generosity He shows us.