Thoughts for Pioneer Lodge's 50th Anniversary Celebration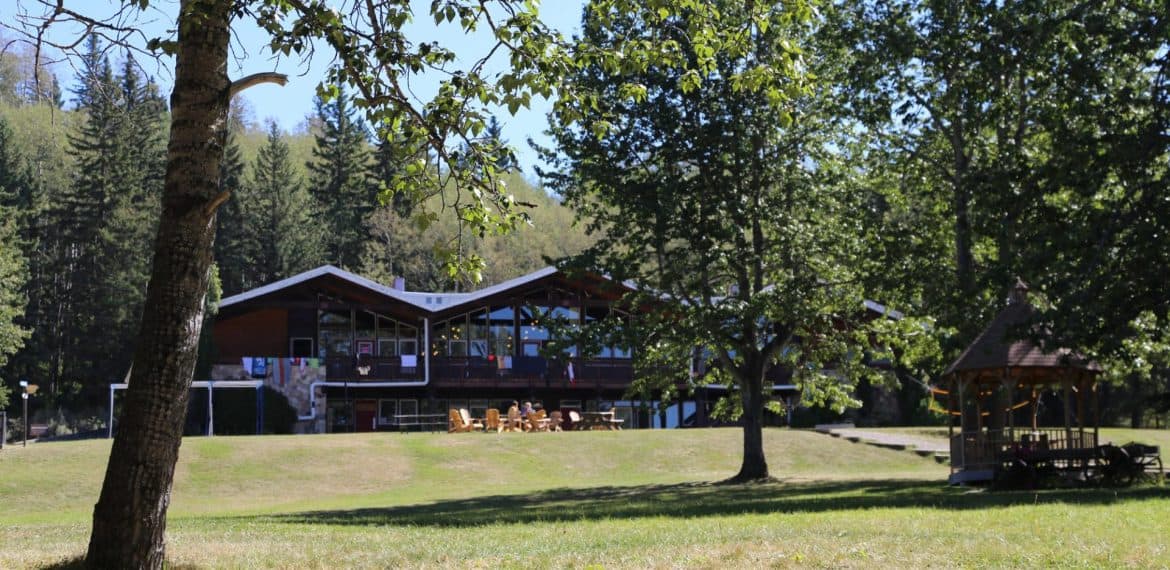 This Month Pioneer Lodge turns 50! God loves to remind us how faithful he is and has been to this place. For the past 50 years he has never left our side walking us through good and hard times alike. On Saturday April 17, 2018, our staff, families and friends met together to celebrate and reminisce over the past 50 years of God's faithfulness to this place. This month's guest blog post is written by Pioneer Lodge's Summer Camp Director, Alanna Waines. She shared these thoughts with us at the party last Saturday and we thought they were worth sharing again with you. As you read them, I hope that you are encouraged and that you see God at work.
Over the years I've often asked myself…where is home?
– by Alanna Waines
Hello. My name is Alanna Waines. Daughter of John and Laurie Watton. Sister to Mitchell. Wife to Daniel and Mother to William.
Currently I oversee Program and Summer Camp at Pioneer Lodge.
I can't speak to the past 50 years of this place, but I can speak to some of the past 28. 28 years ago I first came to this place. New to the world by just 10 days, I had my first introduction to camp.
Over the years I've often asked myself…where is home?
Prairie born and raised, I spent my childhood in central Alberta and my teenage years in West Africa. In my early twenties I travelled and went to university in Calgary.
No matter where I've lived or what life stage I've been in, Pioneer Lodge has been a place I have continuously come back to.
A place of adventure.
A place of community and connection.
A place to be challenged and stretched.
A place that holds story.
A place that I know and am known.
A place to meet with God.
No matter whether I was coming to camp as a camper or as a staff, the drive through the gates and down the driveway always seemed the longest part. A drive through spruced aspen stands where leaves rustled their mirrored anticipation to the adventures the summer would hold. Each camp session was an opportunity for delight and deep realizations of the amazingness of God.
Some things in this place have shifted and changed over the years. People come and go.
Like trees and children this place has continued to grow and change.
Other things stay the same…steadfast like those mountains on the horizon.
As I walk about this land, memories dance in my mind's eye
Memories of a small child being cared for by volunteer staff
Memories as a young girl delighting in the adventures of junior camps
Memories of a teenager being trusted to lead a cabin of girls
Memories as a young camp director striving to lead her peers with grace and dignity
More recent memories of a young mother bringing her new son home
Nikki's Chalet, Strawberry Hill, Gopher Flats, Poverty Plains, Nitchi Creek, the Teepee Sites…the list goes on…of sacred spaces and memories of times past
No doubt as each one of you walks through this land and these buildings, you too are filled with remembering.
sounds of children laughing,
                the bell summoning to a meal
                               crackling fires, stories and starry skies
                                             echos of nighttime benedictions of Abide With Me.
I know that I am here today because in this place I have been shown the love of Christ and an invitation to belong…to community and to Christ. I have been influenced by so many inspirational leaders who have lived out the Gospel in tangible ways.
As I work at camp, I am blessed to be building on a foundation that has been painstakingly and lovingly poured. I am daily amazed by the story of God's faithfulness.
I am grateful for each of you who went before, for those whom I have journeyed with, and for those who will continue the vision and work long after I am gone.
Whether big or small, your contribution to this place is so worthwhile. This is a kingdom place where the love of Christ continues to be shown. There is nothing more valuable than having someone know that they are loved and extending an invitation to belong to Someone and something greater than oneself.
May this place continue to be a place where Christ is glorified, where love is known, and where all who enter know that they belong.
Thank you for sharing in this journey with me.
-Alanna