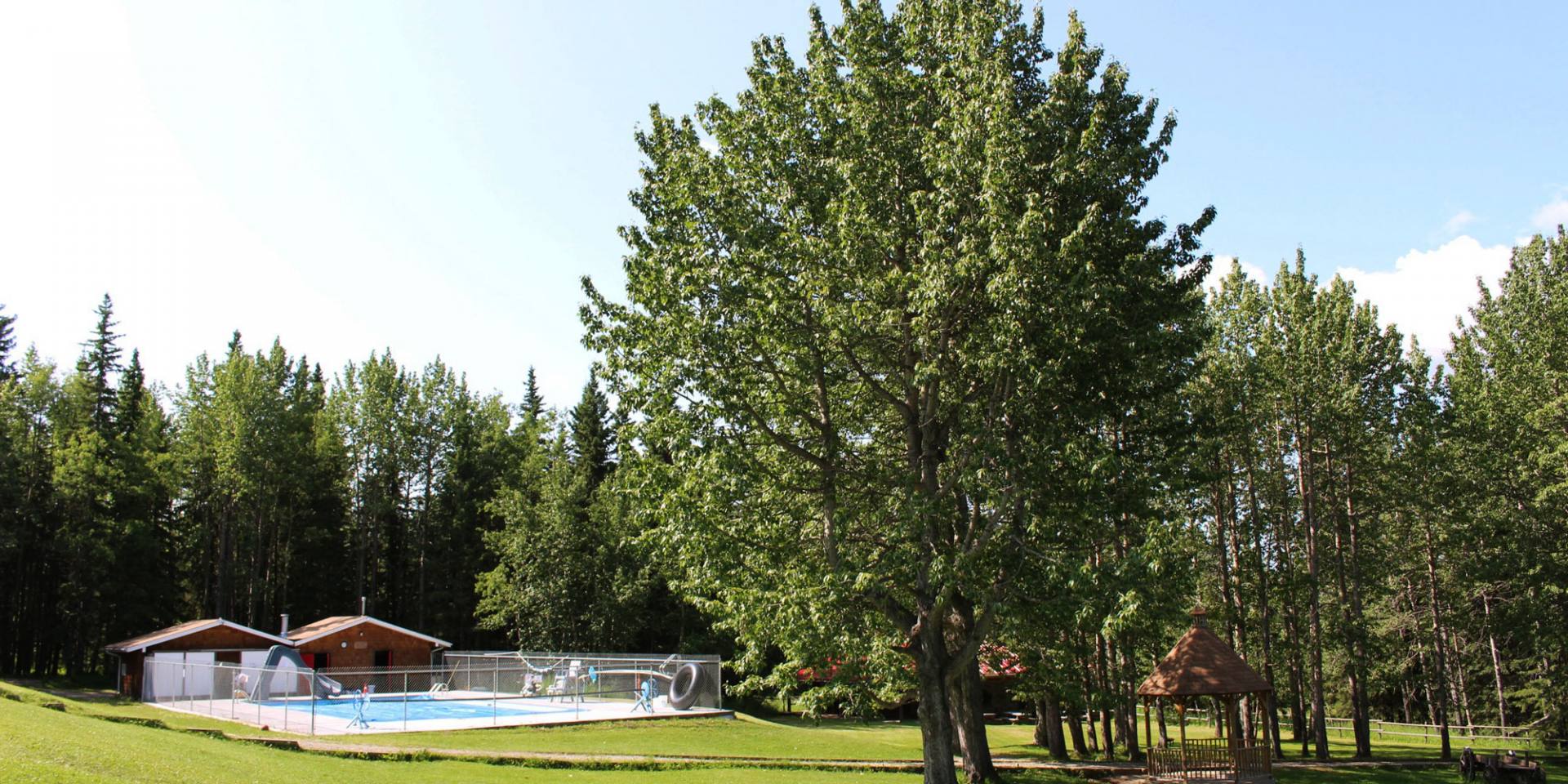 We at Pioneer Camp Alberta are happy to announce that for the 2021 season we will be opening a few of our beloved cabins at each site and 4 RV spots at the Ranch (Rocky Mountain House) for short term rentals! Come with your family and spend a few nights on the beautiful shores of Crimson Lake, or enjoy a campfire with a gorgeous view of the mountains from the rolling hills of our site outside Sundre, AB.  We are following enhanced cleaning procedures to keep you and your crew safe while staying at Pioneer. Call or email us for more information to book your stay today!
Contact Us
Fast Facts:
No sit down meals will be provided.

No program activities (horseback riding, climbing, archery, or waterfront) are being offered this summer, but our hiking trails are open and blooming with wildflowers!

Guests are REQUIRED to bring their own bedding.

Washrooms and cabins are assigned by household during your stay to aid in physical distancing.

RANCH (Rocky Mountain House) ONLY:  A bagged lunch and supper can be provided upon request.

RANCH (Rocky Mountain House) ONLY: Camp stoves can be rented for $15/day (propane included).
COVID-19 Cleaning Policy
Ranch (Rocky Mountain House)
Camping at Pioneer Ranch
| Cabin Name / RV Spot | Price + GST | What's Included |
| --- | --- | --- |
| RV Spot (4 available) | $41.00/night | Water fill up station, power hookup (110 volt) |
| Cabin 1 | $65.00/night | Lake front. Power, wood stove, bunkbeds, sleeps 6, detached washroom/shower house |
| Cabin 9 | $75.00/night | Lake front. Power, gas heater, bunkbeds, sleeps 10, detached washroom/shower house |
| Lindenbach (Cabin) | $110.00/night | Power, gas heater, 2 bedrooms, sleep 4, bathroom, shower, kitchen |
| Infirmary (Cabin) | $110.00/night | Power, gas heater, 3 bedrooms, sleep 6, bathroom, shower, kitchenette |
| Castle (Cabin) | $100.00/night | Lake view. Power, gas heater, 3 bedrooms, sleep 6, mini-fridge, ½ washroom with access to shower |
| Firmament (Cabin) | $100.00/night | Power, gas heater, 4 bedrooms, sleep 10, mini-fridge, washroom/shower |
| Totem (Cabin) | $110.00/night | Lake front. Deck. Power, gas heater, wood stove, 2 bedrooms, sleep 6, kitchenette |
| Lunch (Take-Away) | $10.00/person | Ham and cheese roll, apple, 2 cookies, a juice box, & a water bottle |
| Supper (Take-Away) | $15.00/person | (Supper menu is subject to change. Please inquire about availability.) Example: Salisbury steak, mashed potatoes and cooked veg, dinner bun, cake, water bottle, disposable cutlery |
| Camp Stove (2 burner) | $15.00/day | 1 - 16oz. propane cylinder |
Lodge (Sundre)
$100.00/night // $600.00/week
Camping at Pioneer Lodge
Cabin Name
What's Included
Cabin AB
A Side: Toilet/Shower, One Double and Three single beds on the main floor, 4 single beds in the loft
B Side: Toilet/Shower, Bar Fridge, Microwave, Hot Plate, Table + Chairs, Sofas, Double Bed in the loft
Outside: Porch Chairs, Picnic Bench, Fire Ring
Cabin CD
C Side: Toilet/Shower, One Double and Three single beds on the main floor, 4 single beds in the loft
D Side: Toilet/Shower, Bar Fridge, Microwave, Hot Plate, Table + Chairs, Sofa, Double Bed and Single Bed on the Main Floor. 4 single beds in the loft.
Outside: Porch Chairs, Picnic Bench, Fire Ring
Chalet
The Chalet is a large open space it contains:
Loft: A Double bed and pool table
Main Floor: 4 single beds, Tables and Chairs, Full Kitchen, Toilet Only (NO SHOWER), Indoor Fireplace
Outdoor: Fireplace, Picnic Tables
A Side: Toilet/Shower, One Double and Three single beds on the main floor, 4 single beds in the loft

B Side: Toilet/Shower, Bar Fridge, Microwave, Hot Plate, Table + Chairs, Sofas, Double Bed in the loft

Outside: Porch Chairs, Picnic Bench, Fire Ring
C Side: Toilet/Shower, One Double and Three single beds on the main floor, 4 single beds in the loft

D Side: Toilet/Shower, Bar Fridge, Microwave, Hot Plate, Table + Chairs, Sofa, Double Bed and Single Bed on the Main Floor. 4 single beds in the loft.

Outside: Porch Chairs, Picnic Bench, Fire Ring
The Chalet is a large open space it contains:
Loft: A Double bed and pool table

Main Floor: 4 single beds, Tables and Chairs, Full Kitchen, Toilet Only (NO SHOWER), Indoor Fireplace

Outdoor: Fireplace Picnic Tables