EXPLORE THE WORLD ON AN OUT-TRIP!
We specialise in a variety of Out-Trips specifically designed according to campers' ages. Campers will spend one to five days on a trip, depending on the camp session they attend. Whether it is river canoeing, day hiking, backpacking, or horseback riding, each trek is unique and designed to build skills and character.
The information provided is a general overview of Pioneer Camp-Outs and Out-Trips. Weather may play a factor in when they are held. For specific information about individual camp sessions, please contact us  and we will be happy to provide you with more details.
Out-Trips are a major part of the camper experience at our Sr. Boys' and Sr. Girls' camp sessions!
All campers that attend one of these camp sessions will go on a 4 night/5 day Out-Trip (OT) that will take them on an amazing adventure in nature!
Out-Trip Preparation: During the first 5 days of camp, campers will spend part of each day preparing for Out-Trips by learning the skills necessary for their particular OT; as well as learning how to pack for their respective Out-Trips.
This Out-Trip has been specially designed to introduce them to the fun of Out-Tripping!
Campers will spend their time at a base camp either on our adjacent land or camping in established campsites in the Nordegg area; being introduced to basic Out-Tripping skills such as day hikes, tent set-up, camp management, animal safety, fire building, cooking over a fire and much more.
Trips at this level are to build a foundation for campers to develop skills as they continue on their backcountry adventures.
All food, camping equipment, campers' backpacks, etc. will be transported to their campsite by Pioneer staff.
Choices include Backpacking, Canoeing, or Horseback Riding.
Campers and all equipment (food, tents, canoes, horses etc.) will be transported to various off-site locations depending on where they are going.
Backpacking trips take place in the Rocky Mountains in the Nordegg area, staging from various different locations determined by each groups' skill level and goals.
Canoe trips take place on the North Saskatchewan River with the older more experienced campers travelling from Nordegg to Rocky Mountain House, and younger groups travelling from Rocky Mountain House to Drayton Valley.
Horseback riding trips take place on our land adjacent to Pioneer Ranch (Rocky Mountain House), on Pioneer Lodge (Sundre) land or out of the Clearwater Staging area, west of Pioneer Ranch.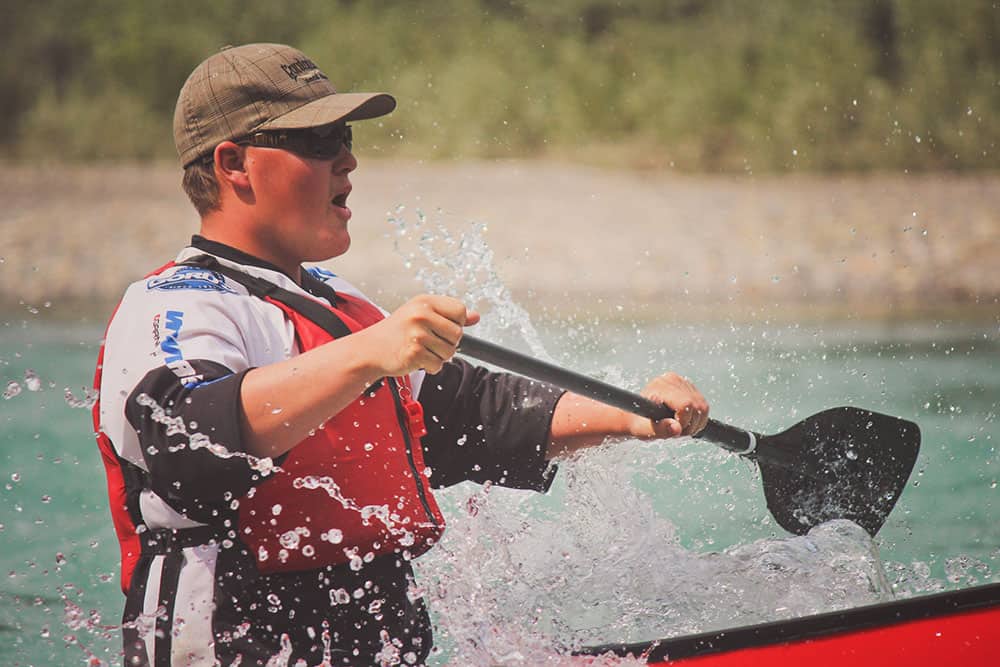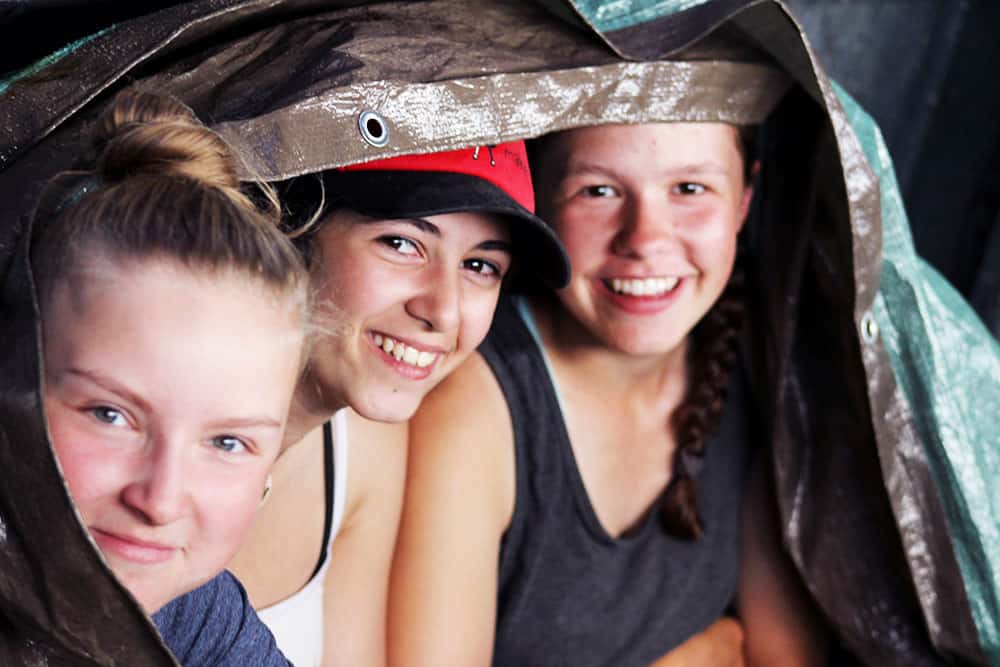 Overnight Camp-Outs are a smaller version of our Out-Trips for our one week camp sessions!
These are for campers attending one of our week-long camp sessions at either our Pioneer Lodge (Sundre) or our Pioneer Ranch (Rocky Mountain House) sites. All overnight Camp-Outs are held on Pioneer Camp property. Overnight Camp-Outs are an introduction to the joys of camping!
Midweek (generally Day 4 of camp), campers will leave mid-afternoon for their camp-out. All equipment, food, backpacks, etc. will be transported by Pioneer staff to their campsite.
Pioneer Lodge campers will walk to their campsite, approximately 25 minutes away from the Lodge's main facilities.
Pioneer Ranch campers will be transported to Camp property that is approximately a 10 minute drive from the Ranch's main site.
Campers will have the opportunity to go out on the land to explore nature, eat their supper outside, enjoy a campfire in the evening, roast marshmallows or make S'mores, sleep in tents or under the stars (optional & weather dependent) for the night and fall asleep to the sounds of nature!
On the morning of Day 5, campers will eat their breakfast out on the land and return to either the Lodge or the Ranch in time for their first activity block.
Note: Due to the shorter length of Discovery Camp sessions at Pioneer Lodge, camp-outs are not part of their schedule.
Canoeing
The truly Canadian way to travel! All equipment and food gets packed into canoes and we travel downstream to new scenes of beauty and adventure every day. Learn how to safely travel on a river, to avoid or navigate rapids, surf a canoe, and swim in whitewater. Days end with new campsites, good food and falling asleep to the sound of the river.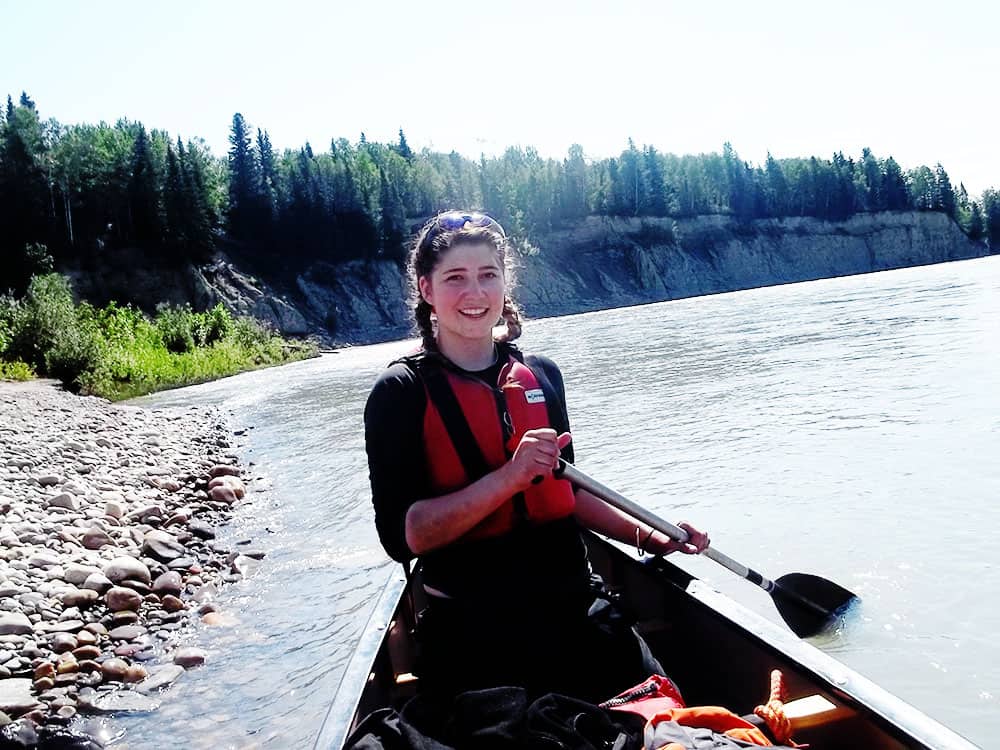 Backpacking
Experience creeks, lakes, alpine meadows and mountain ridges. Cabins can test their endurance by hiking all day long or choose to stop and nap in a sunny meadow. Set up a base camp and scramble a peak or move camp each day to discover something new. Returning to backpacking year after year will allow campers to go deeper into the back-country and experience new challenges and rarely seen wilderness.
Warning: campers may get so hooked on backpacking that they never try another out-trip option!
Riding
Spend days exploring on horseback. Take on the challenge of finding new trails, spend long days in the saddle, enjoy an afternoon watching the clouds while the horses graze and learn how to care for horses over multiple days. Ride through open fields, beautiful forests, creeks and mountains. Enjoy evenings around the campfire and under the stars with good food and great friends. Each year will bring new challenges in the trails, horses and even learning to pack!
Importance of Packing Lists
Please pay close attention to the packing lists provided. These items are absolutely necessary for a successful and enjoyable trip. Many of these items can be borrowed from friends, rented or purchased used. If you have any questions or concerns about the out-trips or the packing list, please do not hesitate to contact our out-tripping department.
Note: Trip locations and difficulty are based on the experience and goals of each individual cabin group. We have trips to cater to a wide range of abilities, so whether you want to go all day or stop to smell the flowers, we have a trip for you.